International
Tables for
Crystallography
Volume B
Reciprocal space
Edited by U. Shmueli



International Tables for Crystallography (2006). Vol. B, ch. 1.3, p. 69  

The general statement of Parseval's theorem given in Section 1.3.4.2.1.5

may be rewritten in terms of symmetry-unique structure factors and electron densities by means of orbit decomposition.
In reciprocal space,

for each l, the summands corresponding to the various

are equal, so that the left-hand side is equal to
In real space, the triple integral may be rewritten as

(where D is the asymmetric unit) if

and
are smooth densities, since the set of special positions has measure zero. If, however, the integral is approximated as a sum over a G-invariant grid defined by decimation matrix N, special positions on this grid must be taken into account: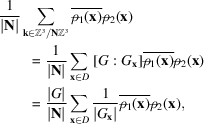 where the discrete asymmetric unit D contains exactly one point in each orbit of G in

.