International
Tables for
Crystallography
Volume B
Reciprocal space
Edited by U. Shmueli



International Tables for Crystallography (2010). Vol. B, ch. 4.6, pp. 616-618  


Section 4.6.3.3.3.1. Indexing
There are several indexing schemes in use. The generic one uses a set of six rationally independent reciprocal-basis vectors pointing to the corners of an icosahedron,
,
,
,
, with
, the angle between two neighbouring fivefold axes (setting 1) (Fig. 4.6.3.28)

. In this case, the physical-space basis corresponds to a simple projection of the 6D reciprocal basis
. Sometimes, the same set of six reciprocal-basis vectors is referred to a differently oriented Cartesian reference system (C basis, with basis vectors
along the twofold axes) (Bancel et al., 1985

). The reciprocal basis is
An alternate way of indexing is based on a 3D set of cubic reciprocal-basis vectors
(setting 2) (Fig. 4.6.3.32)

: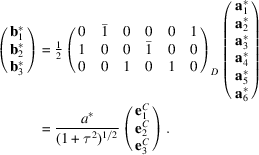 The Cartesian C basis is related to the V basis by a
rotation around
, yielding
, followed by a
rotation around
:
Thus, indexing the diffraction pattern of an icosahedral phase with integer indices, one obtains for setting 1
. These indices
transform into the second setting to
with the fractional cubic indices

,

,

. The transformation matrix is
| | |
| --- | --- |
| | Perspective parallel-space view of the two alternative reciprocal bases of the 3D Penrose tiling: the cubic and the icosahedral setting, represented by the bases , and , respectively. |
Bancel, P. A., Heiney, P. A., Stephens, P. W., Goldman, A. I. & Horn, P. M. (1985). Structure of rapidly quenched Al–Mn. Phys. Rev. Lett. 54, 2422–2425.