International
Tables for
Crystallography
Volume C
Mathematical, physical and chemical tables
Edited by E. Prince



International Tables for Crystallography (2006). Vol. C, ch. 8.6, p. 711

The appropriate function to use varies with the nature of the experimental technique. In addition to the Gaussian PSF in (8.6.1.3)

, functions commonly used for angle-dispersive data are (Young & Wiles, 1982

):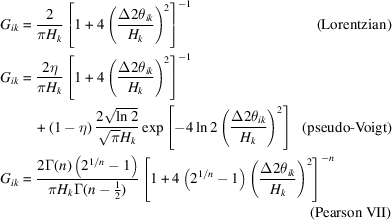 where

. η is a parameter that defines the fraction of Lorentzian character in the pseudo-Voigt profile. Γ(n) is the gamma function: when n = 1, Pearson VII becomes a Lorentzian, and when n = ∞, it becomes a Gaussian.
The tails of a Gaussian distribution fall off too rapidly to account for particle size broadening. The peak shape is then better described by a convolution of Gaussian and Lorentzian functions [i.e. Voigt function: see Ahtee, Unonius, Nurmela & Suortti (1984

) and David & Matthewman (1985

)]. A pulsed neutron source gives an asymmetrical line shape arising from the fast rise and slow decay of the neutron pulse: this shape can be approximated by a pair of exponential functions convoluted with a Gaussian (Albinati & Willis, 1982

; Von Dreele, Jorgensen & Windsor, 1982

).
The pattern from an X-ray powder diffractometer gives peak shapes that cannot be fitted by a simple analytical function. Will, Parrish & Huang (1983

) use the sum of several Lorentzians to express the shape of each diffraction peak, while Hepp & Baerlocher (1988

) describe a numerical method of determining the PSF. Pearson VII functions have also been successfully used for X-ray data (Immirzi, 1980

). A modified Lorentzian function has been employed for interpreting data from a Guinier focusing camera (Malmros & Thomas, 1977

). PSFs for instruments employing X-ray synchrotron radiation can be represented by a Gaussian (Parrish & Huang, 1980

) or a pseudo-Voigt function (Hastings, Thomlinson & Cox, 1984

).
Ahtee, M., Unonius, L., Nurmela, M. & Suortti, P. (1984). A Voigtian as profile shape function in Rietveld refinement. J. Appl. Cryst. 17, 352–357.

Albinati, A. & Willis, B. T. M. (1982). The Rietveld method in neutron and X-ray powder diffraction. J. Appl. Cryst. 15, 361–374.

David, W. I. F. & Matthewman, J. C. (1985). Profile refinement of powder diffraction patterns using the Voigt function. J. Appl. Cryst. 18, 461–466.

Hastings, J. B., Thomlinson, W. & Cox, D. E. (1984). Synchrotron X-ray powder diffraction. J. Appl. Cryst. 17, 85–95.

Hepp, A. & Baerlocher, Ch. (1988). Learned peak-shape functions for powder diffraction data. Aust. J. Phys. 41, 229–236.

Immirzi, A. (1980). Constrained powder profile refinement based on generalized coordinates. Application to X-ray data of isotactic polypropylene. Acta Cryst. B36, 2378–2385.

Malmros, G. & Thomas, J. O. (1977). Least-squares structure refinement based on profile analysis of powder film intensity data measured on an automatic microdensitometer. J. Appl. Cryst. 10, 7–11.

Parrish, W. & Huang, T. C. (1980). Accuracy of the profile fitting method for X-ray polycrystalline diffractometry. Natl Bur. Stand. (US) Spec. Publ. No. 567, pp. 95–110.

Von Dreele, R. B., Jorgensen, J. D. & Windsor, C. G. (1982). Rietveld refinement with spallation neutron powder diffraction data. J. Appl Cryst. 15, 581–589.

Will, G., Parrish, W. & Huang, T. C. (1983). Crystal structure refinement by profile fitting and least-squares analysis of powder diffractometer data. J. Appl Cryst. 16, 611–622.

Young, R. A. & Wiles, D. B. (1982). Profile shape functions in Rietveld refinements. J. Appl. Cryst. 15, 430–438.